Filter campaigns from multiple platforms
How to filter campaigns from multiple platforms and group them together.
When you report on cross platform campaigns you will likely run into these problems:
Blending multiple ad platforms inside a reporting tool like Google Data Studio or Klipfolio can be time consuming and becomes complex rather quickly.
Data Studio or Klipfolio become slow when you have a lot of data in your report.
Every time you add or remove a campaign you may need to change your blending settings and formula's (in every dashboard). For every new dashboard you probably have to change the filter settings again.
People tend to be inconsistent. So your filters need to be clever enough not to miss a particular name (with spelling mistakes or spaces)
Creating new campaigns in multiple platforms make it an ongoing struggle to manage the filters.
It is very hard to match your ad spend from your campaigns to specific revenue as measured in Google Analytics
It would save you a lot of time and energy if you could do the following to solve these problems:
Avoid blending inside the reporting tools by grouping multiple ad platforms together in one data set, before you use it inside the reporting tool.
Use only the campaigns you need, and leave all the rest out of your reporting tool.
Add or remove accounts and campaigns while keeping the data set structure inside Data Studio and Klipfolio unchanged. No changes in blending, filters and formulas. Make changes once, apply to all places these campaigns exist. 
Make simple or more advanced filters that ignore inconsistencies like capitals, spaces, etc. and include all the relevant campaigns.
You want to automatically add specific campaigns when they match certain criteria.
map specific campaigns to specific Google Analytics UTM campaign so you know exactly what the ROI and ROAS is.
Cervinodata's campaign grouping
Cervinodata's campaign grouping feature (available in our Free plan) allows you to blend multiple ad platforms and Google Analytics, filter specific campaigns and automatically add campaigns if they meet certain criteria.
At the same time, Cervinodata keeps the output structure the same, so there is no need to change settings or formulas in your report.
"This campaign grouping feature saves us 4 hours every week" - Mark Blaauw, Technical advertising specialist Mediaxplain*.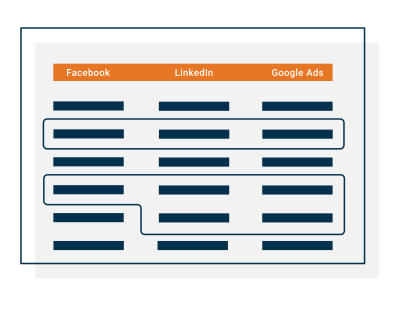 Try it yourself. It's free.
The campaign grouping feature comes standard in all our plans, including the free plan. The free plan allows you to group up to 3 platforms together. So feel free to give it a spin yourself and start saving time.
You can find the campaign grouping feature here: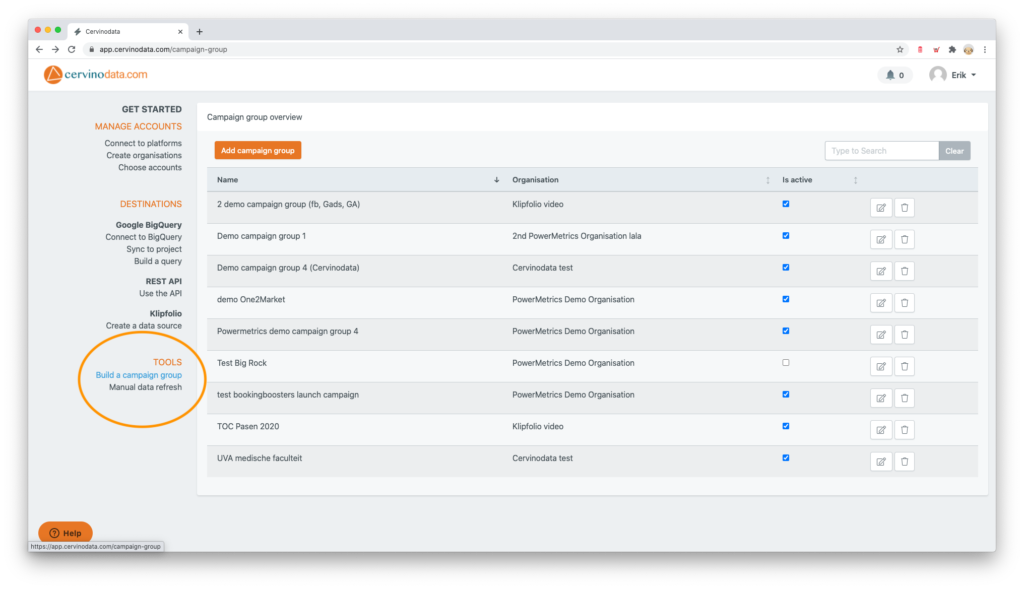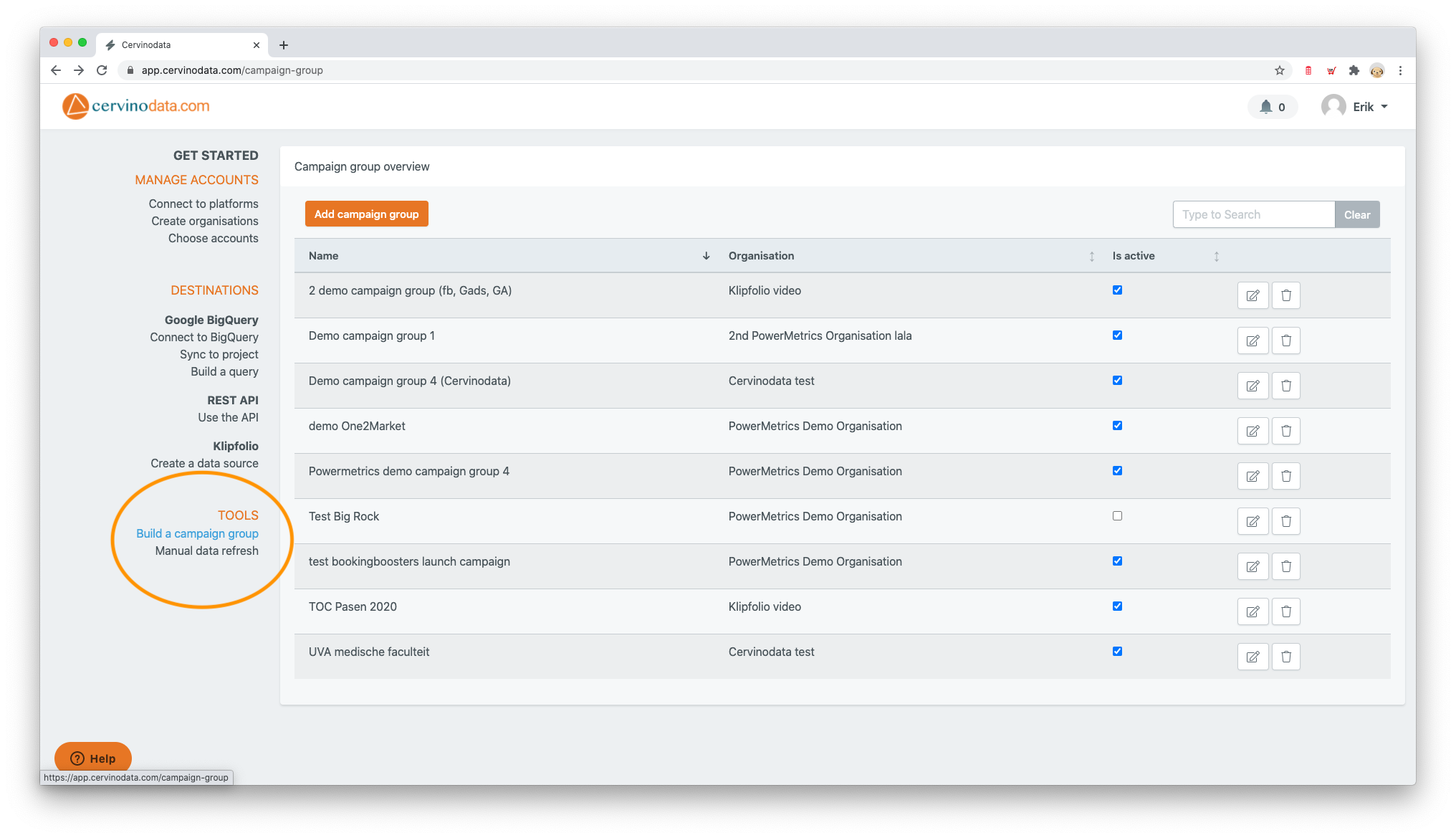 Simply add platforms to the campaign group to report on campaigns from new channels. No need to change blending settings in your Data Studio report. No need to change any formulas in Klipfolio.
Just click to add a platform. Then refresh your Data Studio report or Klipfolio data source.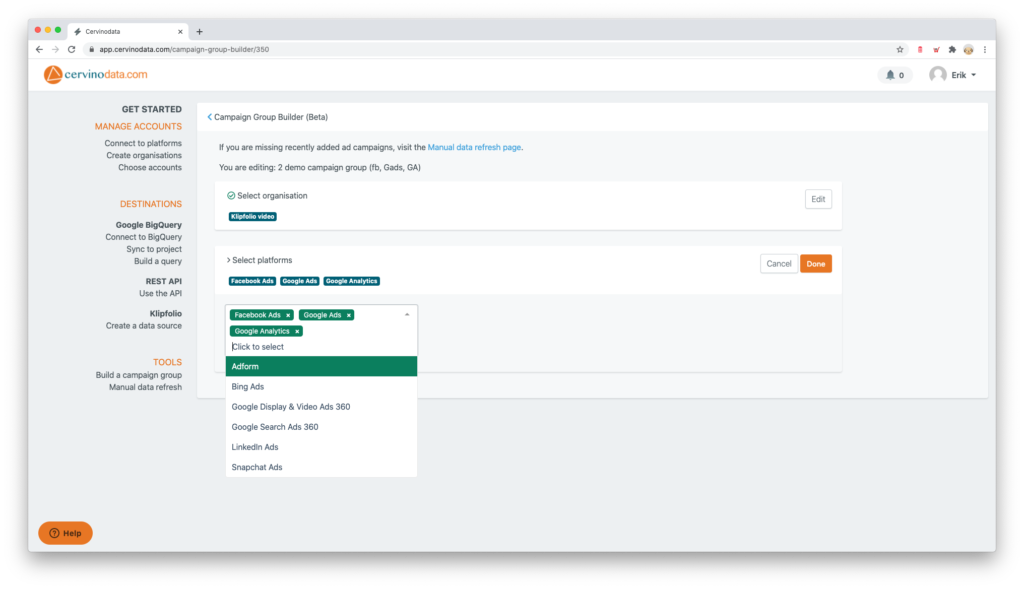 For each platform you can manually or automatically select specific campaigns to be included in your campaign group. Only selected campaigns will be end up in your Data Studio report. The rest will stay in Cervinodata.
Being able to select specific campaigns will reduce the size of your data set in Data Studio or Klipfolio dramatically.
Keep your report fast by keeping campaigns out.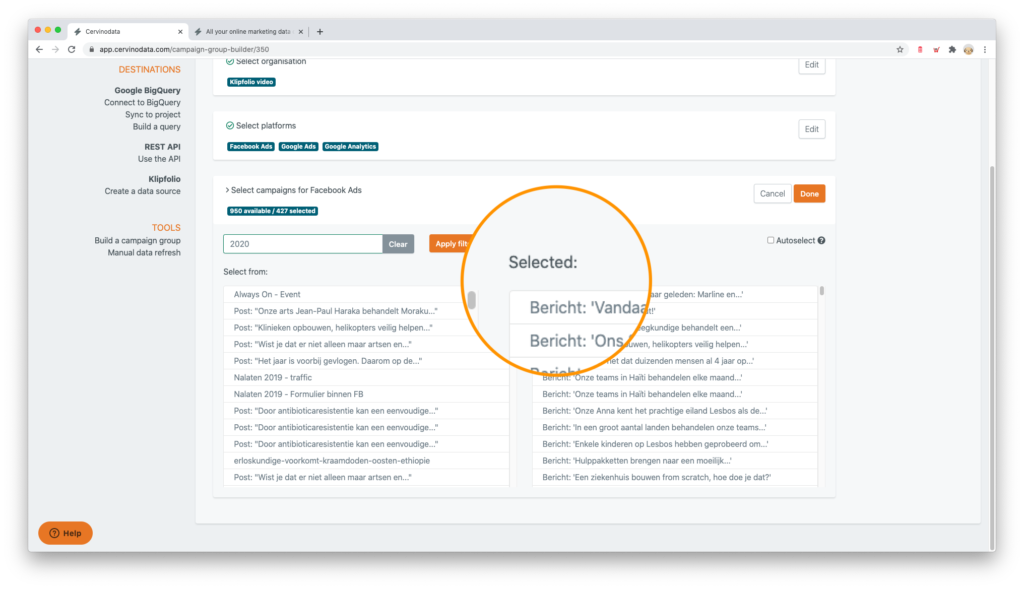 Simple or advanced filters
Use the campaign search box with filter button to quickly select multiple campaigns with one click. Set up a simple or more advanced filter to automatically add campaigns only if they meet certain criteria (like only those campaigns with "P123456" or "2020" somewhere in the campaign name).
For each platform you can insert different filters. And you can go all in by including powerful Regex code in your filters.
Fix human inconsistencies with smart filters. Automatically add specific campaigns with Auto select.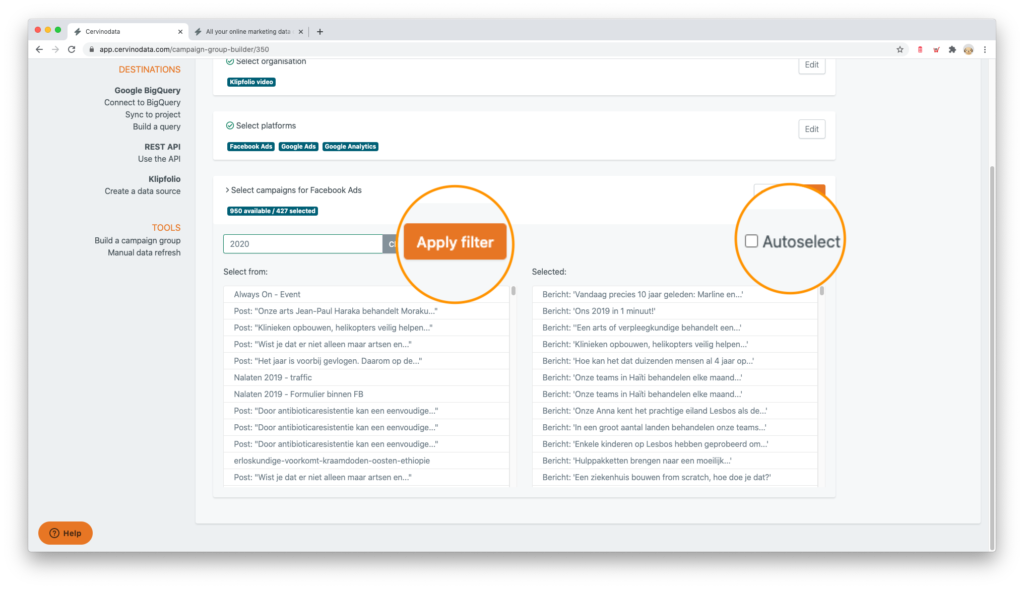 Blend ad data & Google Analytics
You want to know how your ad spend compares to your revenue. But only for relevant campaigns and relevant revenue. Cervinodata campaign grouping allows you to connect specific ad campaigns to specific Google Analytics UTM campaigns.
Just include Google Analytics in your campaign group and you'll see how much revenue your campaign (group) generated.
Calculate the ROI and ROAS by bringing ad performance and revenue together.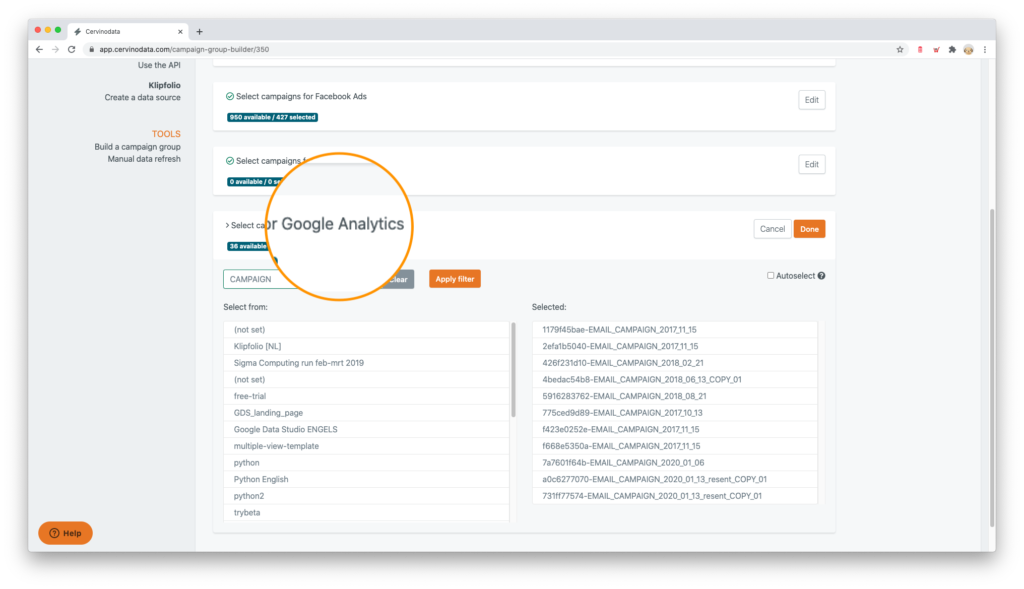 Start a Cervinodata Free plan
Our free plan comes with 182 days data retention and weekly data refresh. Blend data from multiple ad platforms (like Facebook Ads, Google Ads and more) with Google Analytics and get your campaign performance reporting up and running in minutes. Free templates available.
For a more detailed step-by-step instruction on how to build a campaign group to blend the campaigns of multiple platforms togethere, visit our support section.