Multichannel Data Studio report
Cervinodata brings free Multichannel Data Studio Reports for fast and easy reporting on the revenue and transactions generated by your campaigns.
Cervinodata for Google Data Studio now offers free Data Studio templates ready for use. This page describes what in the multichannel data studio report. But you can see it with your own data when you snatch it from the Data Studio connector gallery
What's in the multichannel data studio report?
Powerful filters
"Organisations" allow you to switch between organisations . Key benefit is that is allows you to switch between groups of accounts or deliver the same dashboard to multiple clients (by filtering on an organisation in the back end)
"Campaign group name" A campaign group is a selection of ad campaigns from multiple platforms. You can create campaign groups using the drag-and-drop Campaign Group builder in Cervinodata.
"Date range" allows you to filter the dashboard on a specific date period, like this year to date or last month.
Key performance metrics
For advertising, you only need a few key primary metrics:
Impressions
Clicks
Media cost
Revenue
Transactions
The revenue and transactions are coming from the GA e-commerce revenue (filtered by UTM campaign names).
With those primary metrics, you can derive the most important secondary metrics:
Click through rate (CTR)
Conversion rate(mix of ad platforms and GA)
Cost / transaction (mix of ad platforms and GA)
Revenue / transaction (mix of ad platforms and GA)
ROAS (mix of ad platforms and GA)
Multiple levels: dimensions
In order to interpret your advertising campaign performance data you need a few levels
Totals & averages: See the larger numbers above the graphs (and related to the previous period)
Results per organisation: See the graphs
Results per campaign group : See the table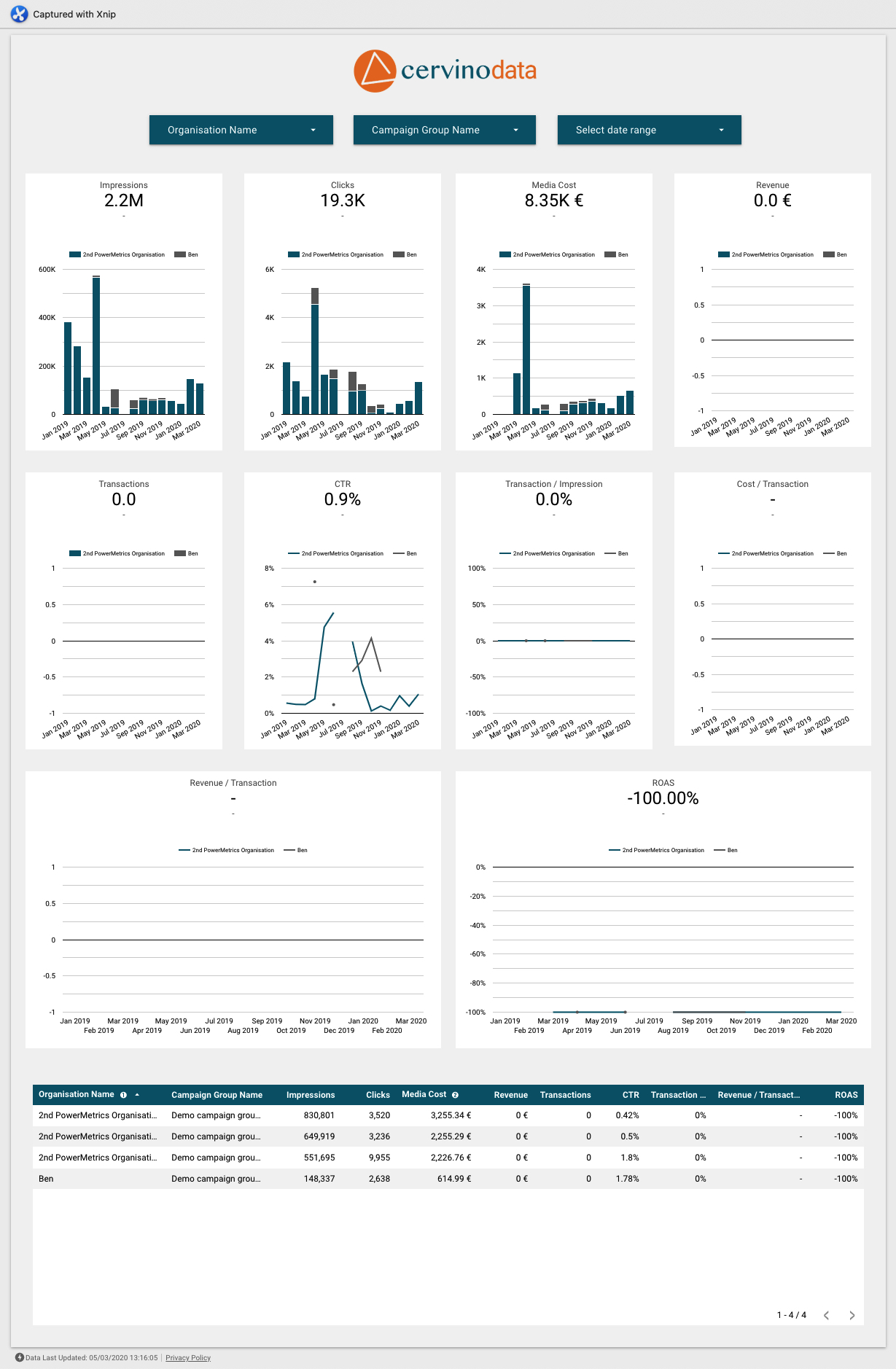 Free trial
Start a free trial of Cervinodata, no credit card needed.