Google BigQuery case study Mediaxplain*
How Mediaxplain* saves 4 hours every week by using the powerful Campaign grouping feature in Cervinodata. A Google BigQuery case study.
Mediaxplain builds on Cervinodata and Google BigQuery
Marketing and media agency Mediaxplain* from Amsterdam has chosen Cervinodata as their data management tool for digital advertising - & Google Analytics data. Cervinodata offers a stronger engine for data aggregation than Supermetrics and continues its long term relationship with Mediaxplain*. This article will go into more detail about the Google BigQuery case study Mediaxplain.
Supermetrics vs Cervinodata
Until recently Mediaxplain* used Supermetrics for Sheets as their primary data engine to combine campaign performance data from multiple platforms. Because of the growth in data volume that is running through Mediaxplain* 's systems, a need for larger scale storage emerged. Google BigQuery is the place to go, for its flexibiliteit and low costs.  When comparing Supermetrics vs Cervinodata, the main criteria where reliability of data delivery, ease of use, being able to blend data, and costs. After comparing the tools by running them in parallel the choice was made to use Cervinodata.
"Cervinodata collects all digital advertising and allows me to create cross platform connections, using campaign groups. Before Cervinodata those connections where made in Google sheets, using Supermetrics to get the data in. These connections where often unreliable and needed regular check ups and manual fixes. And with Supermetrics for sheets, it was manual work to create the connection between campaigns from multiple ad platforms." -- Mark Blaauw, technical advertising specialist at Mediaxplain*.
The trends we see in the agency world
Erik van Dorp, CEO at Cervinodata "Our partnership with Mediaxplain* is at the forefront of a trend we see in the agency world. More and more agencies move from sheets to a more robust solution for data storage and management. Moving from Sheets to Google BigQuery makes a lot of sense. We have built an integration that makes it very easy to bring harmonised advertising data and ecommerce data to BigQuery . It 's plug-and-play"
More and more platforms in use
Online campaigns are run on more and more platforms and the number of running campaigns will only increase in time. Agencies in particular, but also larger organisations usually have a large amount of campaigns in their advertising platforms. Being able to filter and combine the right campaigns can be the difference between responding to a cross platform campaign or being too late to adjust. When talking about big budgets, a one day delay can make a big difference in avoidable spend.
Mark Blaauw: "The options within Cervinodata to group multiple campaigns from different platforms - manually or automatically - saves me about 4 hours every week. There is even a clever way to connect ad spend to ecommerce revenue. This allows us to adjust campaigns based on ROAS".
Cervinodata vs Funnel.io & Supermetrics
In this market segment for data management, multiple players are active, Funnel.io and Supermetrics, being the bigger players. Cervinodata aims to play a leading role in this fast growing market segment.
Erik van Dorp: "We see a lot of potential in the space between Supermetrics for Sheets and Funnel.io. Cervinodata has a very good review score on data delivery reliability, our customer support is blazing fast and we are far easier to use and lower in price than Funnel.io. And we are ahead of the curve when it comes to grouping and filtering campaigns and customer satisfaction".
After setting up Cervinodata for BigQuery, now Mediaxplain* also brings offline media data (TV, Radio) to BigQuery. This allows Mediaxplain* to offer every client a up-to-date dashboard with insights in both online and offline campaigns. Due to this automation, time is saved structurally, allowing for more time for in depth analysis and customer contact.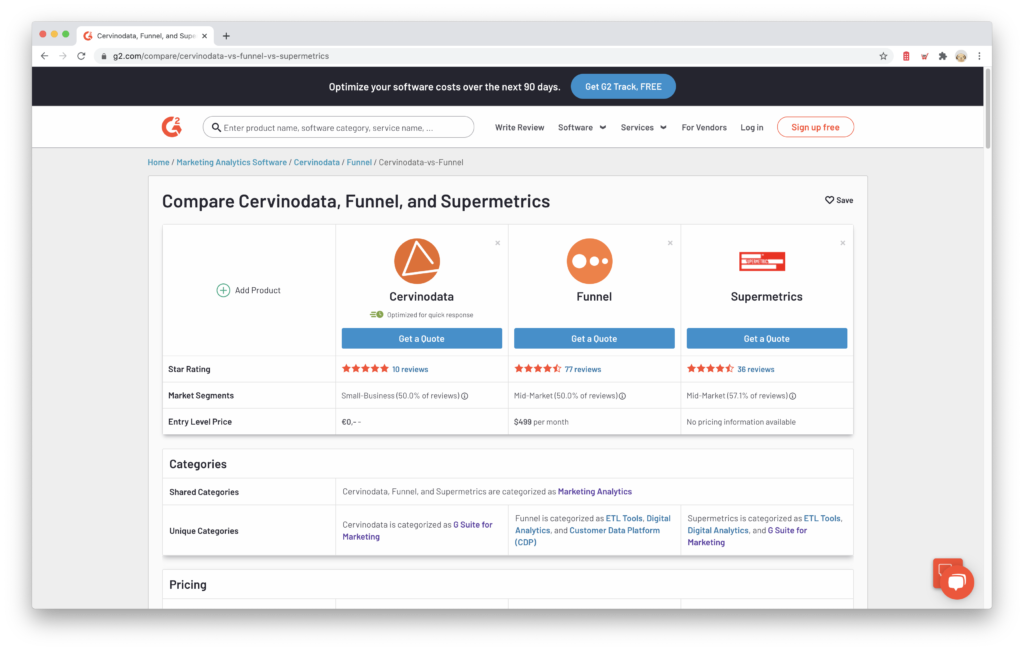 Cervinodata outperforms Supermetrics and Funnel on overal ranking (4.9 vs 4.5 stars)
Cervinodata outperforms Supermetrics and Funnel on the detailed comparison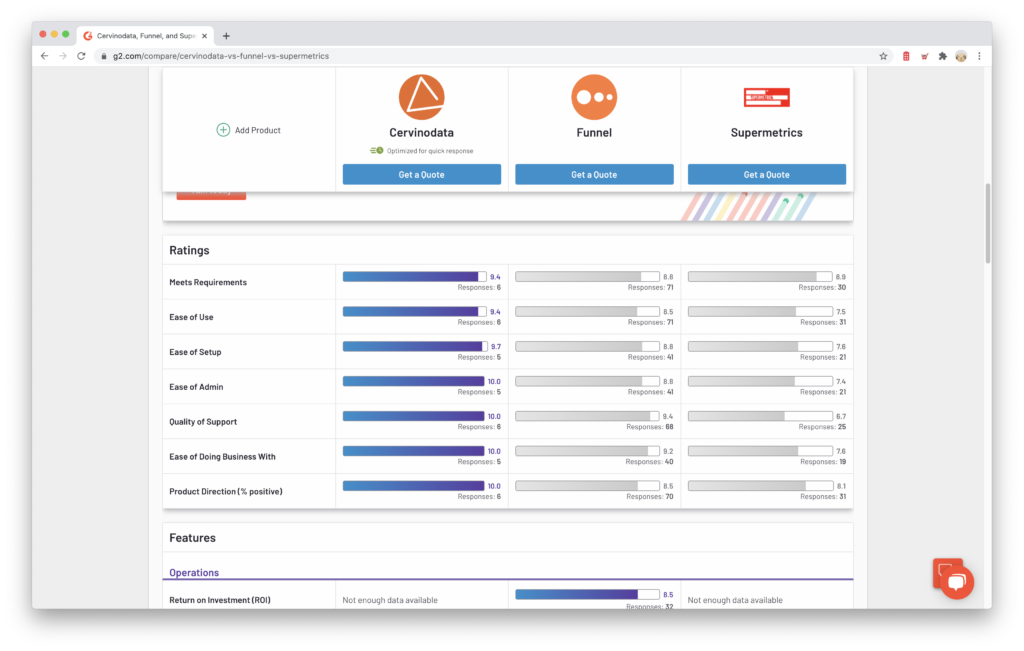 Mediaxplain* is an independent marketing- and media agency that has been impacting the market like a true pioneer with 65 entrepreneurial and out-of-the-box thinking specialists.
Their mission: make our clients more successful by using media- and marketing, by offering clients full control of the integrated media efforts in terms of paid, owned and earned media. Always thriving to be effective and outstanding, 7 days per week. Mediaxplain* works for Bolletje, Storytel, and Efteling. Check out https://www.mediaxplain.nl/en to see more
Cervinodata helps online marketing agencies and marketing teams to bring their online advertising and ecommerce data together in BigQuery for faster and easier reporting. Customers prefer Cervinodata because of the ease of use, reliability of data delivery and fast support. More information and a free trial can be found here https://app.cervinodata.com
This Google BigQuery case study Mediaxplain has been written bij Erik van Dorp, and is approved by Mediaxplain*.
Start a Cervinodata Free plan
Our free plan comes with 182 days data retention and weekly data refresh. Blend data from multiple ad platforms (like Facebook Ads, Google Ads and more) with Google Analytics and get your campaign performance reporting up and running in minutes. Free templates available.